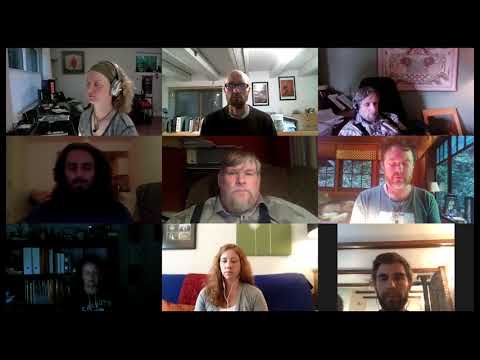 [download]
---
After an introductory session last week, our Life Divine study group begins its discussion of Aurobindo's text, with Matteo leading the conversation (after Marco's opening remarks, and a silent meditation) with a ritual mantra from the first pages of the book.
Reading
The Life Divine, Chapters 1–5 (pps. 1–46)
Background
Hosted by the editors of Metapsychosis.com, Journey to Supermind is a series of reading/writing and creative/spiritual practice events dedicated to the philosopher, poet, integral yogi, and spiritual revolutionary Sri Aurobindo.
In this weekly series running from June to November 2018, we are reading his magnum opus of evolutionary metaphysics, The Life Divine, while creating a field for exploring his poetic and literary works (e.g., Savitri); political and historical thought (e.g., The Human Cycle); and practical teachings on human transformation, or Integral Yoga (e.g., The Synthesis of Yoga).
Participants
Marco Morelli
Mattéo Needham
Eric Weiss
Geoffrey Edwards
Wendy Ronitz-Baker
Durwin Foster
Kim Smith
John Davis
Doug Duff
Heather Fester
Florian Martinez
Lauren Unger
Terri O'Fallon
Date Recorded: June 7, 2018
Previous Conversations
https://www.metapsychosis.com/series/readers-underground/life-divine/
Resources/Referenced Material
Study Guides/Introductory Material
Books References During Recorded Sessions
Audio Recordings Of Life Divine
How to Participate
Support our Open Collective