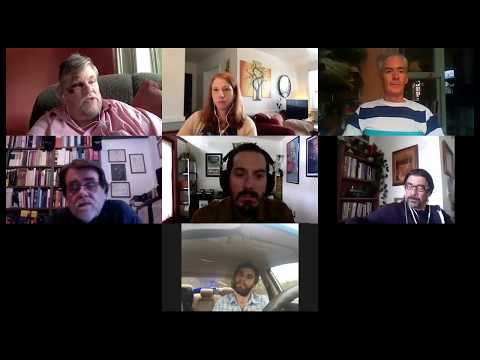 https://www.metapsychosis.com/wp-content/uploads/sites/7/2018/08/GMT20180821-173112_Cosmos-Caf_gallery_1280x720-b.m4a
[download]
Geoffrey Edwards and Heather Fester lead an experimental session about how quantum (and) field theories can inform a collective writing practice.
Overview
Quantum field poetics is an attempt to develop a practice of writing that is "collectively aware" even when a single person is writing, although we are also focussing on developing collective writing practices. The project involves exploring a number of writing practices that are loosely based on quantum physics principles adapted to the field of literature. Current efforts in this regard include the ways structure (poetic versification, sentences and paragraphs, etc.) can generate resonances in the "poetic field", the exploration of the "cloud" of meaning around any one word and questioning its multiple uses, exploration of the idea of sentence/context pairs, "residual" field effects, for instance the way a sentence can strongly bind meaning within itself but also allow for resonances/connections to other sentences or phrases, and other ideas such as dimensionality in relation to text. Quantum field poetics is also based on the idea that there exists an intermediate layer between "reality" and "text" or "expression" which is experiential (e.g. felt, especially in embodied ways; spiritual; and/or ineffable). The idea is not to use the analogy as a kind of straightjacket to impose on literature, but to explore what kinds of new modes of writing and/or inquiry such an approach opens up.
Reading
This is a paper Geoffrey wrote on the subject in the late 1980's that outlines the general idea in more detail.
QuantumPoetics1.docx (152.4 KB)
Animators
The session will be animated by Heather Fester (@hfester) and Geoffrey Edwards (@Geoffrey_Edwards).
Seed Questions
Is the idea useful, or does it feel overly artificial to you?
What kinds of new ideas/understandings do you find this way of viewing things raises?
What does it suggest about the practice of collective writing? How can attending to the collective field enhance our writing (thinking, feeling)?
Context and Backstory
Agenda items
The meeting will be structured, although we will leave lots of time for discussion.
We will begin by summarizing where these ideas came from and how Heather and I ended up working on this together.
Then we will open up the floor to a more general discussion.
We will, however, reserve the last 30 minutes for a structured writing/drawing exercise that aims to provide some hands-on experience to what we mean by Quantum Field Poetics as a writing or drawing practice, both personally and collectively.