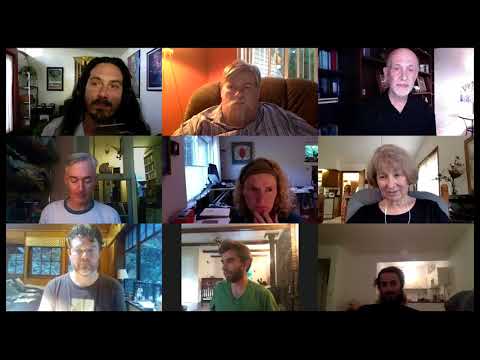 [download]
---
This is our fourth session exploring Integral philosopher, poet, and yogi Sri Aurobindo's spiritual classic The Life Divine. Psychologist @Don_Salmon, who has been studying Aurobindo's work for over 40 years, leads off our discussion, which begins with his reading of an evocative passage from a letter by Aurobindo in The Mother (see below for full text), and then goes on to focus on our different ways of reading Aurobindo, as well as some of the questions, challenges, and uncertainties that have come up in our individual readings thus far. These include concerns from scientific, cultural, and ethical points of view.
We also take up a couple points which have surfaced in the forum conversation regarding the relation between spiritual consciousness and the brain. It seems important to read (or receive) Aurobindo in a way that goes beyond the mental intellect, yet The Life Divine IS addressed to the intellect, and so we must also do the work of clarifying concepts and connecting ideas with (as well as distinguishing them from) what we already know, other philosophers we've read, and so on.
Some of us feel we've glimpsed the greater reality Aurobindo calls "Supermind," and others are not so sure. Don suggests that in a way, in these early chapters of the book, Aurobindo is still just setting us up, through precise conceptual distinctions, for greater revelations to come.
Much more happened in this experimental supermental-seeking conversation, including a couple of very interesting dream reports, so check it out! And please share your thoughts below…
Reading
The Life Divine, Chapters 12 - 16
To Participate
Review the Overview, Schedule, and Guidelines
Introduce yourself below.
Important note: These meetings will be recorded and shared on Metapsychosis.com and here on the forum. You are welcome to participate as an active listener if you would like to join the sessions but prefer not to speak on camera.
If you expect to join us late, please let us know ahead of time (if possible) so we know to let you in. The main meeting room will be closed after the opening meditation. However, latecomers are welcome to hang out in the 'waiting room' until a break in the conversation, when the host will let them in.
Resources/Referenced Material
Study Guides/Introductory Material
Books References During Recorded Sessions
Audio Recordings Of Life Divine
Support our Open Collective
This series is organized by the editors of Metapsychosis.com on a gift economy basis. If you value our creative productions, and would like to see us continue our collaborative work, please consider supporting our Open Collective with a monthly or one-time donation.


Thank you!

: