---
Colored stains show different layers of a tadpole eye during an experiment in Michael Levin's lab. | VAIBHAV P. PAI/TUFTS UNIVERSITY
Bodies within Nature or Cosmos (bodies within reality) can be explained through various levels of understanding: mathematics, genetics, biophysics, biochemistry, bioelectricity, biomechanics, anatomy, psychology, spirituality, and all in between. Bioelectricity (sometimes equated with bioelectromagnetism) refers to the electrical, magnetic or electromagnetic fields produced by living cells, tissues or organisms. Bioelectricity often resides on the edge of cutting philosophical and medical implications or cutting remarks from scientists with an alternate view of the natural world and evolution. Michael Levin doesn't claim to understand all the various levels of describing nature, nor does he maintain that developmental bioelectricity (his particular field within the wider field) is the only important level. Yet his research has received interest from all sides of the cut.
Michael Levin directs the Allen Discovery Center and the Tufts Center for Regenerative and Developmental Biology. His experiments with planeria, xenobots and internal signaling networks has profound implications for medicine, evolution, agency, consciousness and creativity. And, as we explored in Hofstadter's I am a Strange Loop, this research raises questions: what is a self? What is it like to be a self?
Levin: "I look everywhere, and I ask the question What's the cognitive nature of this system? What's it like to be a—what's your sensory world like, what decisions are you making, what memories do you have, if any? What predictions do you make? Do you anticipate future events? Slime molds can anticipate regular stimuli. I look for cognition everywhere. In some places you don't find it, and that's fine, but I think I see it broader than many people."
In a recent tweet, Levin quotes William James from Principles of Psychology, suggesting a panpsychist leaning (he even goes so far to state that consciousness is present in the particles of rocks:
"So strong a postulate is continuity! . . . We ought therefore ourselves sincerely to try every possible mode of conceiving the dawn of consciousness so that it may not appear equivalent to the irruption into the universe of a new nature, non-existent until then. . . . Consciousness, however small, is an illegitimate birth in any philosophy that starts without it, and yet professes to explain all facts by continuous evolution. If evolution is to work smoothly, consciousness in some shape must have been present at the very origin of things." ~ William James, 1890
Is it okay for a panpsychist to be a developmental biologist? What possibilities arise from having an alternate framework, one that is not the primarily accepted view on how the natural world works?
Reading / Watching / Listening
Michael Levin's The Computational Boundary of a "Self": Developmental Bioelectricity Drives Multicellularity and Scale-Free Cognition
Developmental Bioelectricity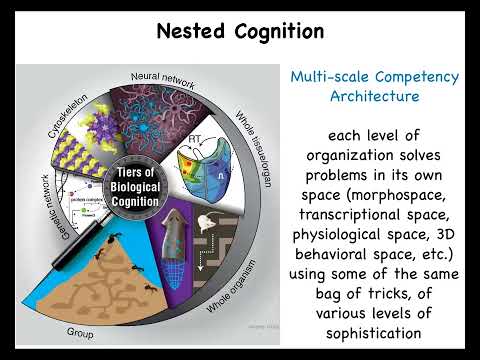 Seed Questions
How do coherent biological Individuals result from the activity of smaller sub-agents?
What are the implications of having an expanded memory? And if you or anyone you know is stressed out by anticipating future large scale events, where could that anticipation come from?
Is there a relationship between Bioelectric Fields and the Subtle Bodies?
Context, Backstory, and Related topics