Generative Realities -on the shift of social structures, cognition and temporality in the technological civilization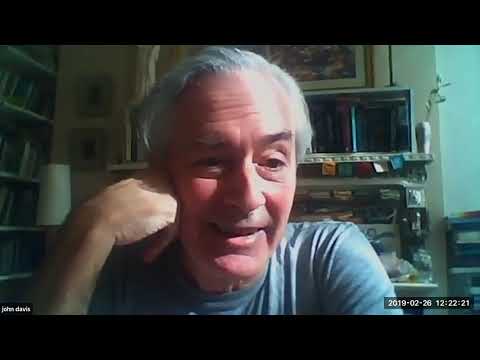 ---
Und jedem Anfang wohnt Ein Zauber inne…
---
"Our life is an apprenticeship to the truth" We have multiple frames and around every frame lies another frame; Beyond each boundary is a boundary beyond knowledge. How do our theories overlap with others? How do we integrate theories, as broad circles drawn by Gebser, Aurobindo, Wilber, Gidley, Bateson, Sloterdijk, ________ → --> expand understanding? As new circular strokes of genius form fresh framings?
For this week's Café Menu item du jour, we respectfully introduce the work of Davor Löffler, a scholar of overlapping circles, an apprentice to the truth, an in depth interdisciplinary researcher, author and editor.
Bionote from Distributing Potentiality:
Davor Löffler earned his PhD in Sociology from Free University of Berlin with an interdisciplinary thesis on the shift of social structures, cognition and temporality in the Technological Civilization. He worked as lecturer in Sociology and Philosophy at the BTK University of Art and Design, Berlin, Germany, and collaborated in various interdisciplinary working groups such as Mind Machine Project at the MIT, Cambridge, Massachusetts, USA, the Interacting Minds Center, Aarhus, Denmark, the Role of Culture in Early Expansions of Humans Group at the Institute of Prehistory, Tübingen, Germany, and The New Center for Research and Practice. He is author and editor in the field of cultural theory and philosophical anthropology and co-founder of the journal Plateau. Zeitschrift für experimentelle Kulturanthropologie.
Hints of spheres explored by participants on the forum are present in Davor's dense accumulation of research.
Disorient your learnings.
Reset your tastebuds.
Come with an empty stomach, fresh palate, and your finest utensils,
prepared to dine on thoughts and expand the notches on your framework's astral belt.
---
In this Café, John Davis will lead the discussion.
From John:
I intend to invite the Café participants to give us feedback on our interview. I want to focus attention on the quality of the feedback that is given. Let us invite some precision.

What do you like (about the interview, the theory)?
What do you not like?
What do you want more of?
How is this relevant to your personal explorations?

As we are a peer to peer non academic gathering, very informal, it may be a challenge for us to capture the high ground and stay connected in an online environment. I hope we can explore the macro and the micro dynamics.

It is my expectation that our discourse can become simpler without reducing, complex while remaining actionable.
---
Menu du Jour
Chalkboard Menu (Supplementary Sustenance)
From Davor

I … send you two little sections from Heiner Mühlmann's book "Nature of Cultures", a very important but still widely overlooked work.

This picture is the part in which he tells the yam-story (taken form Boyd/Richerson, but not indicated where from exactly) as an example of the negative Baldwin-effect. (it is in the 4th chapter and you could not understand it without having read the whole book, therefore just this little piece).

The introduction is interesting because of the term "cultural narcissism" (read: the narcissism of culture as a living being itself), the "10 humiliations to humanity" (he adds seven more to the classical three of Freud, heliocentrism, evolution and unconsciousness) and the term "uchrony". I think you might like it and gain something from it (there are also some rather strange ideas in it one probably should just ignore, you'll know them when you find them, but then just move on - in the second edition he has changed a lot).
Fresh Produce and other ingredients from recent Cafés

Susan Leigh Star and boundary objects
Margaret Atwood - Payback
Colson Whitehead - Underground Railroad
David Graeber _ Debt - The First 5000 Years and Fragments of an Anarchist Anthropology
Yanis Varoufakis, William Connolly, Helen Keller, Maya Angelou
The New Green Deal
Agenda items