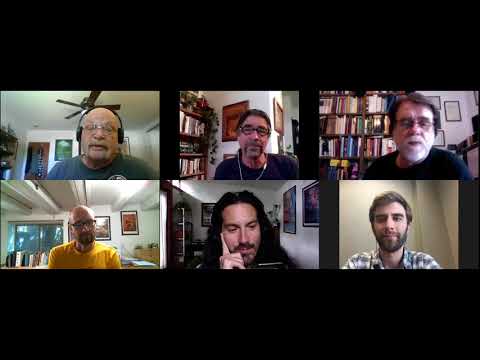 [download]
---
Overview
The Café crew welcomes Michael Stumpf, who has been following our talks and posting to the forum recently, and who shares a personal story relating to our topic—a topic precipitated by the recent death of Anthony Bourdain, which was brought up by Mark in the forum and we talked about briefly in our last session. How does suicide happen, and why? And in what ways are contemporary men at risk? What are the symptoms and signs, and what can one do to help? This is not meant to exclude any other category or identity—but this is who showed up for the talk!
Indeed, as Durwin remarks—Durwin, who is an integral psychotherapist based on North Vancouver, with a focus in his practice on men's mental health—it's rare for men to talk about these issues. So we go with it. Mark and Durwin both provide valuable insight from the psychological profession, while Ed relates from his past experience as an educator working in a boarding school for troubled youth. Marco speaks as a poet/writer/artist whose creative work is his therapy. And Doug, a social worker by profession (and 'undercover agent' by esoteric vocation), is Doug. Doug Dougs. Doug digs in and reflects back in his inimitable way, leaving us with a topic we don't actually discuss, but should be noted, which is the role that psychedelic medicines could play in treating depression. Perhaps for a future episode.
In this talk we especially focus on underlying causes and conditions of depression and what drives the suicidal act, especially in our modern, technology-driven, and media-saturated contexts and lives. And we discuss alternatives to suicide and ways of working with depression from the realms of spirituality and the arts, and most importantly, perhaps, through making interpersonal connections and finding one's sense of purpose in life.
Important note: The views expressed in this episode should not be construed as medical advice by any individual. If you need assistance with an immanent, existential-level mental health crisis, please call 1-800-273-8255 (suicide hotline).
Participants:
Mark Jabbour
Ed Mahood
Michael Stumpf
Doug Duff
Durwin Foster
Marco V Morelli
Recorded: June 19, 2018
---
Reading
Simultaneity_Temporal_Structures_and_Observer_Pers… ---- (8._On_Time_Experience_in_Depression_H._M._Emrich,_C. Bonnemann_and_D. …) - Copy.pdf
Seed Questions
Context and Backstory
Continuing the discussion from Anthony Bourdain / suicide / mental health / Life / personality / reality:
Agenda items