Unedited recording: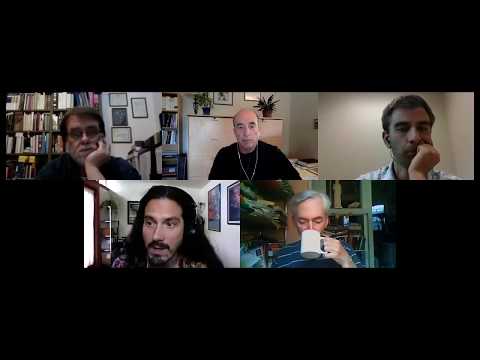 [download]
---
In the Introduction to his new book, A New Republic of the Heart—a book about how awakened and concerned human beings can meaningfully respond to the interconnected social, ecological, and spiritual crises of our global situation—our guest for this week's Café, Terry Patten, writes:
LET'S TALK

In this pivotal moment of truth for our species, a whole wave of radical conversations is inevitable. For these conversations to really make a difference, we must break through our personas and our inauthentic poses. This is a deeper level of discourse than has hitherto seemed thinkable in public—disarming, tender, and authentic. To my knowledge, we have never had such public conversations. Any such conversation requires an extraordinary degree of intelligence, freedom, clarity, and intimacy— and perhaps it can only take place in a moment of supreme urgency like this one. But now the stakes for humankind are our collective fate—a life-and-death choice. As Samuel Johnson noted, "Nothing clarifies a man's mind so much as the knowledge that he shall be hanged in the morning."
And so this Café will be an attempt to actually have one of the radical conversations that Terry is calling for and is attempting to enact through his book. Arguably, the Café crew has already been practicing these kinds of public conversations. Morever, as students of consciousness, culture, history, and psychology, drawn to various kinds of knowledge and ways of knowing, our crew has been hard at play weaving together multiple perspectives on our contemporary reality. But how do we understand the larger crisis Patten is pointing to—and are we rising to the evolutionary occasion? Can our small group of thoughtful, committed citizens actually make a difference in the trajectory of the world? And what would that look like if we do?
Please join us for this special event with one of the elder statesmen of the contemporary 'integral' movement and global community, as well as an early Cosmos beta member and vocal supporter. (See Terry's endorsement of Cosmos Co-op in Chapter 8 of the book!) Share you thoughts and questions ahead of the event by commenting below.
Reading
New Republic of the Heart Excerpt-Patten-CCoop.pdf – Introduction and Chapter 1 (recommended), Chapters 2 and 3 (optional, encouraged if time allows)
Publisher's Overview
A vision to address our environment, economy, politics, culture, and to catalyze the radical whole-system change we need now
Recasting current problems as emergent opportunities, Terry Patten offers creative responses, practices, and conscious conversations for tackling the profound inner and outer work we must do to build an integral future. In practical and personal terms, he discusses how we can all become active agents of a transformation of human civilization and why that is necessary to our continued survival. Patten's narrative focuses on two aspects of existence–our dynamic but fractured and threatened world, and our underlying wholeness and unity. Only by honoring both of these realities simultaneously can we make sustainable changes in ourselves, our communities, our body politic, and our planetary life-support system. A New Republic of the Heart provides a comprehensive understanding and inspiring vision for "being the change" in a way that can address the most intractable problems of our time. Patten shows how we can come together in our communities for conversations that matter and describes new communities, enterprises, and forms of dialogue that integrate both inner personal growth work with outer awareness, activism, and service.
Purchase the book via Amazon.com | B&N.com | North Atlantic Books
Also see…
---
This talk is open to the whole Infinite Conversations community, but if you have not attended a previous Café, please RSVP and introduce yourself below.