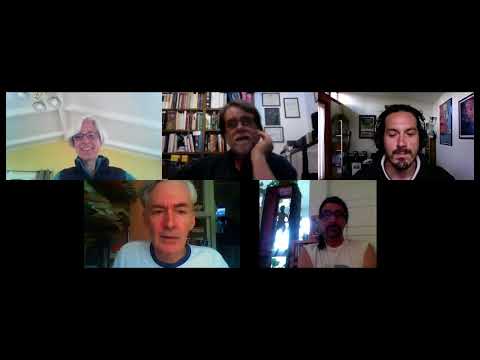 [download]
---
@ccafe crew: Doug, Johnny, and I were discussing here potentially reading the 'Genius' chapter from Irreducible Mind for this coming Tuesday, but I'd like to suggest (/beg) that we put it off for a couple weeks, as it's pretty long (~70 pages) and I will not personally have time to (properly) read it before our next meeting.
I am single-dadding it this weekend, with Kayla visiting her family in Minnesota, and I would also like to focus my constrained reading time and available intellectual bandwidth on Globes, Soul Mountain, and The Minor Gesture—which is quite a mindful already!
Finally, I feel incomplete with our last conversation on the Mereon Matrix. I still have questions. I still don't quite know what to make of it all. At the very end of our last session, @LDennis33 began talking about the name "Mereon." It had something to do with spacetime and E=MC2. But we didn't get the full story. And there is much more I'm sure we didn't get!
I would like to follow up with a comparative inquiry. For example, I wonder about the relationship between the Mereon Matrix and the Cosmic Hologram which Jude Currivan describes. There must also be some relationship to the Meru research, which we can tease out. And what about the Mereon Matrix and transforming language? I am curious about how @Lisa uses this work. And how might a Cosmic Doughknotology describe our trefoil twists of fate, fortune, and free will? And is there some Timeless Earth Wisdom we might need to bring into the mix?
Could we dive into the Irreducible Mind "Genius" chapter during the interregnum between Slotedijk and Aurobindo (mid-May)? And for this next session (Tuesday, 5/1) could we look at the various metamodels we've been exploring over the past few months and see if we can clarify what's going on in the visionary space they all seem to be coming from / about?
How might we weave visions together in the way Jennifer Gidley models in her work on Steiner, Gebser, and Aurobindo? Can we model the modelers?
These are just some thoughts to get us going! As always, this process is open to feedback, revisions, new ideas, cosmic intuitions, alternative ways of knowing, etc.
---
Topic template

Hi there! Below is topic template if you are creating a Cosmos Café event. If you are starting a general conversation, not intended to become an event, try posting in the #commons channel instead, or simply
'select all' and delete this content create your post as per usual.

Topic title: [mm/dd] Cosmos Café: Your Name for the Event

DELETE THE ABOVE LINES

---

Day of the Week, mmd/dd
1 pm Mountain Time (Denver, USA) (or choose your own timezone)
(Convert time zone: Time Zone Converter – Time Difference Calculator)

ZOOM link: Launch Meeting - Zoom

Overview

One or two paragraphs intro to the topic.

Reading

Links to suggested (or required) reading material

Seed Questions

Context and Backstory

Other relevant links or topics, e.g.,
YouTube videos
Links that come up in the discussion, if any

Agenda items