"Anger and the Road to Hell," a selection from Election 2016: The Great Divide, the Great Debate by Mark Jabbour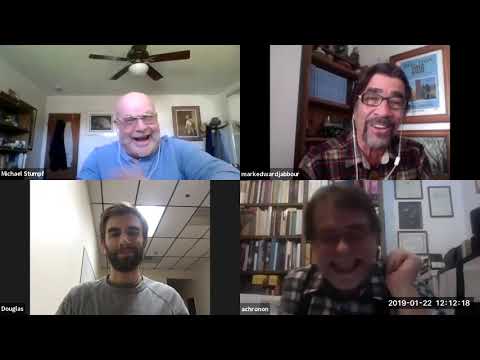 A discussion led by Mark Jabbour and sparked by a reading from his most recent book Election 2016: The Great Divide, the Great Debate. The Café crew had good intentions for a vibrant discussion, paving a path out of the current American hellishness.
Present:
Doug Duff
Michael Stumpf
Ed Mahood
Mark Jabbour
Recorded: 22 Jan 2019
---
The best years of your life are the ones in which you decide your problems are your own. You do not blame them on your mother, the ecology, or the president. You realized that you control your own destiny.
Thinking rationally is often different from "positive thinking," in that it is a realistic assessment of the situation, with a view towards rectifying the problem if possible. —Albert Ellis
Join us as we go to hell in a handbasket with our basketcase country in tow, as depicted by resident creative writer Mark Jabbour. This conversation, sure to go down in history as a great debate, will revolve around the great divide of an angry country, or the anger than divides a great country.
---
Reading / Watching / Listening
@Mark_Jabbour has selected a chapter of his book called "Anger and the Road to Hell, May 23, 2016"
Anger.pdf (73.7 KB)
Seed Questions
Anger, contrary to what many say, is not a primary emotion, but a secondary emotion. Recall, or meditate on the point/time in your personal history that you were your most angry. What was the root it? [Share or not. This is not a substitute for therapy.]
Share, or not, an event, personal or general, that demonstrates 'the road to hell …'
In general, what do you think the function of emotion is? i.e. why do they exist? and how stable are they historically? Are there new ones?
Context, Backstory, and Related topics
Agenda items
Purchase, read, review the book. Enjoin The Great Debate. Bridge The Great Divide.
---
About the book
Election 2016: The Great Divide, The Great Debate is a collection of essays written in real time, reacting to and predicting the emergence of Donald J. Trump as a viable then winning candidate—interrupted periodically by fictional analysis from the author and fictional characters, demonstrating the psychological aspects of the campaign regarding the American psyche. In addition, there are fictional futuristic happenings and speculations about what could happen. There are a number of footnotes, some cite sources, some are explanatory, and some are updates of relevant subject matter. Taken as a whole, it a story about an unprecedented event in American and world history.
From the preface of Election 2016:
The great divide seems only to have widened, now fourteen months plus into the Trump administration. There is no bridge, no coming together, and certainly no evolved consciousness. Instead, we (Americans) seem to be on the brink of another civil war, another war between the states. The electorate now appears to be sorting itself out geographically. The internet, specifically the social media, looks to have, rather than connecting people in friendly ways, augmented and exacerbated their differences to the point of not only hostile speech but behavior as well. This election, more so than any other event since that war, begs this question: Who are we? Obviously, that question wasn't settled then, and remains open today.