Marc Chagall, La lutte du Jacob et du l'Ange (The Fight Between Jacob & the Angel), 1967
---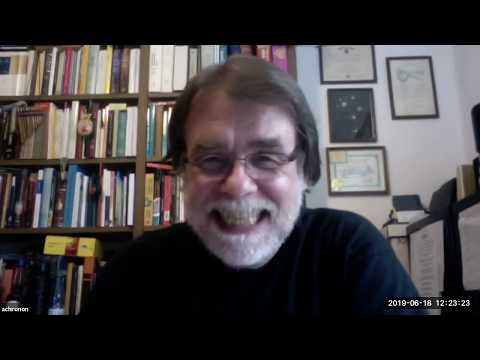 Recorded 18 June 2019
In Attendance:
Ed Mahood
Michael Stumpf
Johnny Davis
Andrew Field
Douglas Duff
The discussion hovers in flight around the concept of anatheism, Richard Kearney's term for the return to God after God has . . . left, died, weakened, worn its welcome. After a brief introduction to Kearney's book entitled Anatheism, John launches our discussion into the esoteric territory, mentioning Kripal's similar concept of gnostic postmodernity. Ed fleshes out hermeneutics and appreciates Kearney's stance of asking how do we understand what it is that we are doing. Micheal, feeling the weight of the world on his shoulders as he tries to gracefully bridge the gap between the two sides, finds therapy in another work by Kearney called Carnal Hermeneutics which invites us to remember the senses in this bridgework of figuring things out. Andrew Field enters stage left in his first Café appearance, monologing on his religious experience from the exoteric to the esoteric, going from surface religion to a mysterious and palpable depth of participation in the Divine.
How do we respond to the call in the street? The voice in the dark? Kearney discovers, through his exploration of historical and contemporary religious and aesthetic stories, that we wager with this uninvited guest, discerning and committing (or not) to the call. The Café Crew waxes on the similarity of the words host, hospitality and hostility; the Other; the art and science of interpretation; the role of the imagination/reimagining and humor/humility in receiving God; the place for theory and the place for everyday language. Anatheism is likely a term we will return to in future discussions.
Reading / Watching / Listening
God after God. A good interview with Richard Kearney.

Seed Questions
The Alpha God is dead. Is there another version of God emerging?
What happens when Black, Latin and Queer versions of Christ become a focus of our collective attention?
How do we develop a relationship with the Stranger?
Context, Backstory, and Related topics
Other relevant links or topics, e.g., leading up to this talk
Links to additional reading, viewing, listening